About Tsuruoka Town Campus of Keio

Summary of TTCK
In April 2001 Keio University established Tsuruoka Town Campus of Keio (TTCK) in collaboration with Yamagata Prefecture and Shonai area. It is located 340 kilometers from Tokyo in Yamagata Prefecture. Tsuruoka Town Campus holds 3 institutions, The Institute for Advanced Biosciences (IAB) of Keio University, Graduate School, Tohoku University of Community Service and Science and Chido Library.
The activities of IAB are done at Campus Center and Biological Laboratories.
At TTCK, "Biocamp", an educational program for the students of Shonan Fujisawa Campus of Keio University and "Systems Biology Program", a graduate program of Keio University are held. We also hold "Summer Bio College" for high school students.


Institute for Advanced Biosciences,Keio University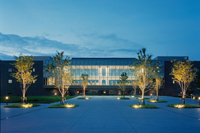 Access (Transportation)
Tsuruoka Town Campus of Keio
Baba-cho 14-1, Tsuruoka City, Yamagata, 997-0035, Japan
Tel: +81-235-29-0800
Fax: +81-235-29-0809